How to Register for NPTEL Online Courses
The National Programme on Technology Enhanced Learning (NPTEL), a project funded by the Ministry of Human Resource Development (MHRD), provides e-learning through online Web and Video courses in Engineering, Sciences, Technology, Management and Humanities. This is a joint initiative by seven IITs and IISc Bangalore. Recently I have completed one course through NPTEL and my experience was awesome. Source-Wikipedia. Read this complete post to know: How to Register for NPTEL Online Courses 2018

Latest Free NPTEL Online Courses 2018
[LATEST] Online course: Free for all, Certification exam: For a nominal fee. Learn anytime, anywhere! Only requirement: Interest and enthusiasm to learn 🙂
The start/end dates and exam dates are as follows:
    4 weeks course: Start date: 5 Feb 2018 End date: 2 March 2018
    8 weeks course: Start date: 5 Feb 2018 End date: 30 March 2018
    12 weeks course: Start date: 22 Jan 2018 End date: 13 April 2018
Exam Date

Exam dates for all courses: 28/29 April (2 sessions per day: FN-9 AM to 12 noon AN-2 PM to 5 PM)
Enrollments for all the courses are open now for enrollment and will be closed on start date of the course.

Details about each course can be found in the Course introduction page – please click on any course to know more.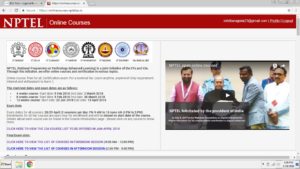 How to Register for NPTEL Online Courses 2018
First of all, visit this link to go through all the ongoing courses registration page: https://onlinecourses.nptel.ac.in/explorer/search?category=all

NPTEL Course List

Select the course you wan to do and then click "Join"
Next, it will ask you to select Gmail Account; select an account from which you want to register.

Select Account

Enter your Gmail account password
Next, a form will get open.

Fill this Form

Fill all the details such as personal details, education details and then tick mark on both I Agree option.
You can check whether your Institute/College is an NPTEL Local Chapter from this link: http://nptel.ac.in/LocalChapter/
Next, click on Join Button

Click on Join

This is your dashboard. Now wait for the programme to start.
Note: Registration is free. If you want to get certificate after completion of your course then you have to appear for certificate exam which will cost you Rs 500 if your College/Institution is a NPTEL Local Chapter otherwise Rs 1000. (For question pattern, you can contact me)
NPTEL Certificate Format: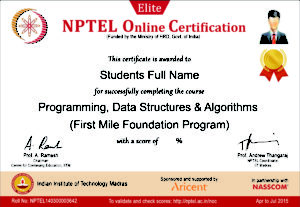 List of Online certification courses from NPTEL to be offered between July-November 2017: http://nptel.ac.in/LocalChapter/Assets/spoc_refdocs/Tentative_course_list_July_2017.pdf
Link for NPTEL Brochures and Booklet: http://nptel.ac.in/Brochures/
Still any doubt ? Don't hesitate, feel free to ask anything. We are happy to help you.
Please comment below, if you have any question, we will reply as soon as possible.
Keep Visiting: https://replaner.com/